100% Grassfed Beef
All of our cattle are 100% grassfed, true to the diet of a grazing herbivore.
We raise our cattle on pasture and graze them on a diverse mix of grasses, legumes and forbs.  As with all HNG animals they are never given antibiotics or added hormones. Black angus genetics, proper pasture management, and good farmers lead to high quality beef year around.
Cattle are ruminants allowing them to metabolize grasses and live their whole life thriving off pasture. The results of grazing on a purely grass diet benefit the animals, the land, and the humans that consume the meat. 100% grassfed beef is lower in saturated fats, higher in Omega 3 fatty acids, and higher in vitamins. The animals are able to maintain a healthy weight and live an active lifestyle exhibiting natural behaviors. Cattle give back to the land by sequestering carbon and fertilizing the soil with their manure.
100% GRASSFED

NO ANTIBIOTICS

NO ADDED HORMONES

PASTURE RAISED
All of our cattle are Step 4: Pasture Centered through Global Animal Partnership and Non GMO Project verified.
Cattle Farmers
We partner with local and regional farmers to support each other in achieving the standards of sustainable agriculture. All cattle farmers adhere to HNG's protocol standards. Farm visits and 3rd party audits are used to ensure all HNG meat is raised with care for the animals, respect for the land, and transparency for the consumer.
https://www.hickorynutgap.com/wp-content/uploads/2019/05/Cows-Tractor-Truck-Hill-19.jpg
933
1400
Kelsey Winterbottom
https://www.hickorynutgap.com/wp-content/uploads/2019/03/Hickory-Nut-Gap-Meats-Logo.png
Kelsey Winterbottom
2019-05-17 10:51:14
2019-05-17 10:51:56
Andrew Gilmer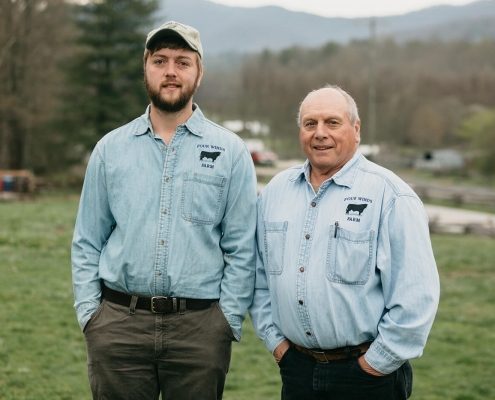 https://www.hickorynutgap.com/wp-content/uploads/2019/02/beef-farmer-bio-image-04.jpg
933
1400
integritive
https://www.hickorynutgap.com/wp-content/uploads/2019/03/Hickory-Nut-Gap-Meats-Logo.png
integritive
2019-02-06 16:42:14
2019-02-13 14:40:26
Danny Boyer
https://www.hickorynutgap.com/wp-content/uploads/2019/02/beef-farmer-bio-image-03.jpg
933
1400
integritive
https://www.hickorynutgap.com/wp-content/uploads/2019/03/Hickory-Nut-Gap-Meats-Logo.png
integritive
2019-02-06 16:38:31
2019-02-13 14:40:41
Bass Hyatt
https://www.hickorynutgap.com/wp-content/uploads/2019/02/Richie-Profile.jpg
1125
1500
design
https://www.hickorynutgap.com/wp-content/uploads/2019/03/Hickory-Nut-Gap-Meats-Logo.png
design
2019-02-05 12:13:30
2019-03-11 18:04:39
Richie Herman
https://www.hickorynutgap.com/wp-content/uploads/2019/02/Sam-Dobson-Farms.jpg
1000
1500
integritive
https://www.hickorynutgap.com/wp-content/uploads/2019/03/Hickory-Nut-Gap-Meats-Logo.png
integritive
2019-02-04 12:06:16
2019-02-13 14:41:05
Dobson Farm
Shop for 100% Grassfed Beef
Taste the difference between grassfed and conventional fed beef.  As Dave Williams, Meat Department Manager at Hendersonville Community Co-op says, "It's what meat is supposed to taste like."
KEEP IN TOUCH TO LEARN ABOUT THE FARM, OUR SPECIAL OFFERS AND NEW PRODUCTS